It's March and Spring is desperately trying to poke its head through the frozen ground. Snow has been falling steadily in the South of Brum. As I look out of my kitchen window I can see my writing shed which now resembles a Swiss chalet. My latest resident fox has left his imprints deep in the crisp snow. 
We are currently working on new songs and soon the summer house doors will be flung wide open. You will be able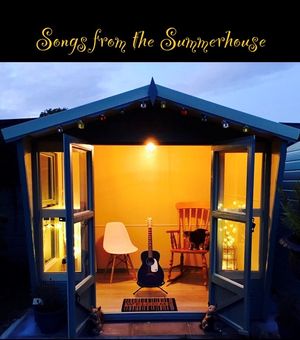 to tune in live via social media and hear us perform these ditties from the comfort of your own home. For all those who have followed and supported us, you will be able to request anything from our repertoire. Our gifted guitarist Nigel King will be there, weaving his magical notes on his Moon guitar. 
  We would like to thank everyone who have ventured far and wide to see us play. As song writers we are truly blessed to have such a loyal core following. Here's to Spring and Summer, when we will be travelling around the country, meeting new people and inviting guests to join us. See you soon. Carolyn.
I dream of foxes on sun kissed soil
With golden eyes that rise at dawn
And when he walks towards my past
I'll bow and pray my dreams will last
"Martha - Trinity of the Chosen" C.S. Evans